EXPERT TRAINING
BECOME AN EXPERT WITH OUR EXPERT!
GET FREE, NON-QM TRAINING FOR TEAMS OR INDIVIDUALS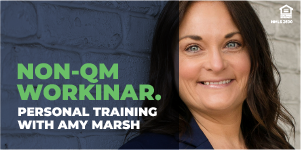 Today's Non-QM market is rapidly growing and changing, so keeping up with the latest trends and products is key to providing your clients with the best solutions all the while maintaining your competitive edge.
Available to our valued seller partners, are a variety of unique and educations Non-QM webinars as well as one-on-one virtual consultations. Amy will clearly illustrate to your sales and operations teams:
How to use Carrington's suite of Non-QM products to expand your pipeline
How to identify and reach potential  Non-QM borrowers
How to qualify more borrowers through manual underwriting
How to utilize Advantage IQual
How to leverage Carrington's deal desk
You can contact Amy Marsh directly about scheduling a virtual training or book an open time now.
Cell: (949) 382-8532
Tel: (949) 517-5732
Email: Amy.Marsh@carringtonms.com
Business Development Manager